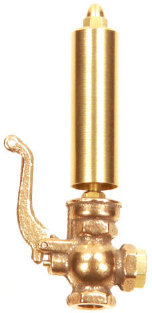 This is close to actual size of this whistle. For Shipping outside the USA please contact us.

*1-1/2 INCH SCALE*
~STEAM LOCOMOTIVE WHISTLE~
New from the Manufacturer!
Authentic scale model Steam Whistle with adjustable pitch. This beautiful little whistle has a classic crisp tone. It looks and works just like its full-size predecessor. Cast bronze valve and handle with brass pipe chamber. The model pipe thread size is 1/4" 40 TPI, 2 3/4" height overall, width is 1 3/4." The Bell Diameter is 0.425" and 1.385" Tall approximately. Will work on compressed air as well.
Maximum operating steam pressure is 100 PSIG.
Happy Steaming & Let her toot!